Some trade shows are great investments and deliver lots of high-quality leads; others are just a waste of your marketing budget.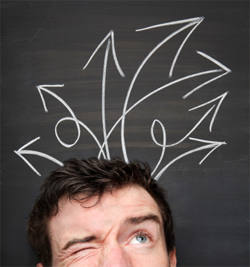 The trick is to find the productive shows without making a lot of mistakes.
I always start by defining my marketing goals and target customer. This immediately points me in the right direction. Armed with that information, I put together a list of all the shows that reach my target customers and then evaluate them.
What kind of show should you attend? Often it is a mix of consumer shows, industry shows, buyers' expositions and educational conferences. Each kind of show has its place.
Then look at these key factors to decide which trade show is best suited for your business:
1. Does the show help you meet your marketing goals?
If you are interested in a regional market or are new to trade shows, consider participating in a smaller, local trade show. If your goal is to acquire the largest number of qualified leads, to support a major new product launch, and/or to significantly build awareness, participate in the major industry tradeshows that capture the largest number of target customers. If your objective is to build your network and to position your company as a thought leader, then investigate shows where your company can be a show's sponsor and a company representative can be a featured speaker.
2. Is it the right market space?
A show that matches your exact market space is often the best show to attend. You can learn a lot by looking at who exhibits at a show you are considering. A list of past exhibitors is usually available from the trade show management or on their website. Call a few of the past exhibitors and ask about the quality and number of attendees at previous years' shows. Identify the shows that have an exhibitor mix that will attract your target customers and that are complementary to your business.
3. Determine which shows your top prospects attend.
See if the attendee list from past shows is available. Review the list to determine which shows have a large number of your target customers on the attendee list.
4. Identify which shows your best customers attend.
Call your customers and ask which shows they plan to attend and which shows they would like to attend. If there is a show that some of your customers would like to attend but are not planning to attend, ask if they would attend if they received a free pass to the exhibits. Most major trade shows offer exhibitors a limited number of free passes, so if your customers would attend the show with free passes, this could be a good reason to attend this show.
5. Figure out where your competition will be.
How many of your competitors will be exhibiting at the show? If you are not there, will you be at a competitive disadvantage? Trade shows usually bring together many competitors under one roof. Look for shows where your company will stand out as a leader in your market.
6. Consider timing – does the show's timing make sense?
Will your company have news? Do you have a new product to announce or roll out? Does it conflict with another more important show?
7. Are there any special PR opportunities?
Exhibitors have a distinct advantage capturing Trade Show PR because they have higher profiles than attendees. They can also more easily and effectively demonstrate their products. This is particularly important for new product introductions. Ask the Trade Show management for last year's press list and if they have any information on who is planning to cover this year's event. Are there any media outlets attending that provide opportunities for you to reach your target audience in an impactful way?
8. Finally, take a look at the cost to attend each show.
Will it have a positive return on your marketing investment? Which shows have the best returns?
Put it all together and you should be able to pick the best trade shows for your company.